Demonic Investigation & Assessment for demonic possession, demonic infestation and demonic oppression
"Dominus Iesus of 2000 AD" Declaration of the Holy See by then-Joseph Cardinal Ratzinger (now-Benedict XVI, Pope emeritus) and Tarcisio Cardinal Bertone under the then-Pontificate of His Holiness John Paull II. "One Lord, One Faith, One Baptism, One Church, Churches that remain united to the Catholic Church by means of the closest bonds of Apostolic Succession and a valid Eucharist are true particular Churches."
Archbishop Ronald Feyl Enright
and The Sacred Order of Saint
Michael the Archangel – Order of
Exorcists is an autonomous and
independent branch of the Catholic
faith which derives from the ancient
Old Roman Catholic Church of the
12th Century.
Check out this short video about Exorcist
Archbishop Feyl-Enright
Do you believe you or someone in your household may have symptoms of demonic possession, or other demonic issues?
Are you at that point where you find yourself in utter turmoil and emotional devastation? After you have seen a physician and had a thorough medical and psychological exam and have been given a clean bill of health but still have symptoms of demonic possession, you might want an Assessment by our organization.
The Order of Exorcists consist of many jurisdictions specializing in the "Ministry of Exorcism. Our Clergy member are appointed Exorcist for their jurisdiction, which are in 24 countries around the world. with Lead Assessment Team Investigators.
Check out the new video from Archbishop Feyl-Enright!
Join Exorcist Archbishop Feyl-Enright as he reviews his illustrious career defeating the Demonic with his many friends and co-warriors from over the years. 
"The International Exorcism
First Self-Service Ministry Directory"
Inspired by the Holy Trinity; + Fathers, + son, and + Holy Spirit
We are blessed to introduce you to the "First Self-Service, Ministry Directory" which gives you the ability to directly contact our Clergy and service providers that are in or near your location.
We're so honored and blessed to be a small part of this big production for the glory of God.
Archbishop Ronald Feyl Enright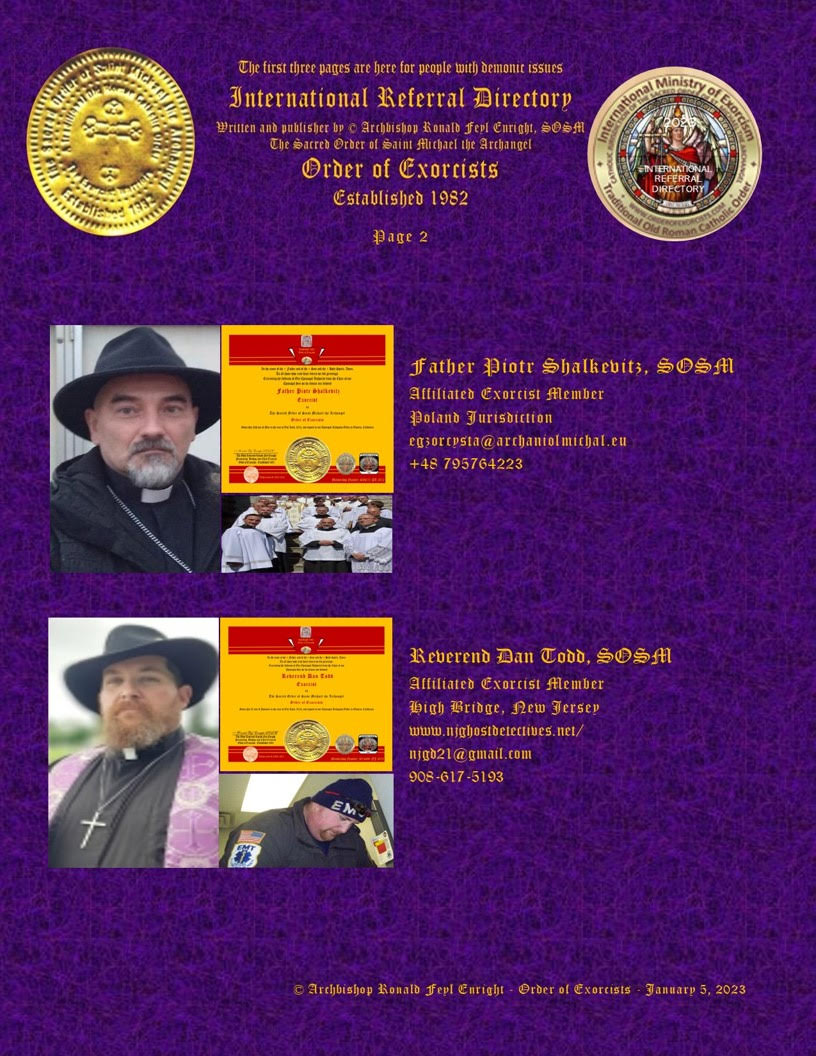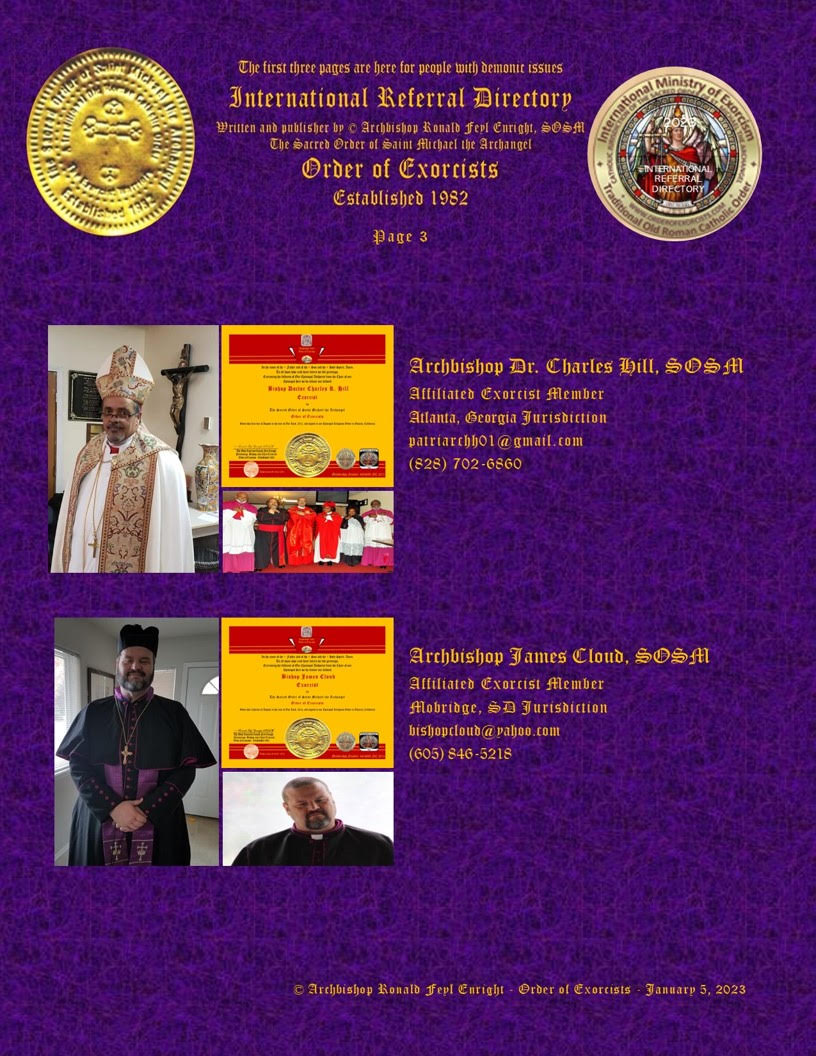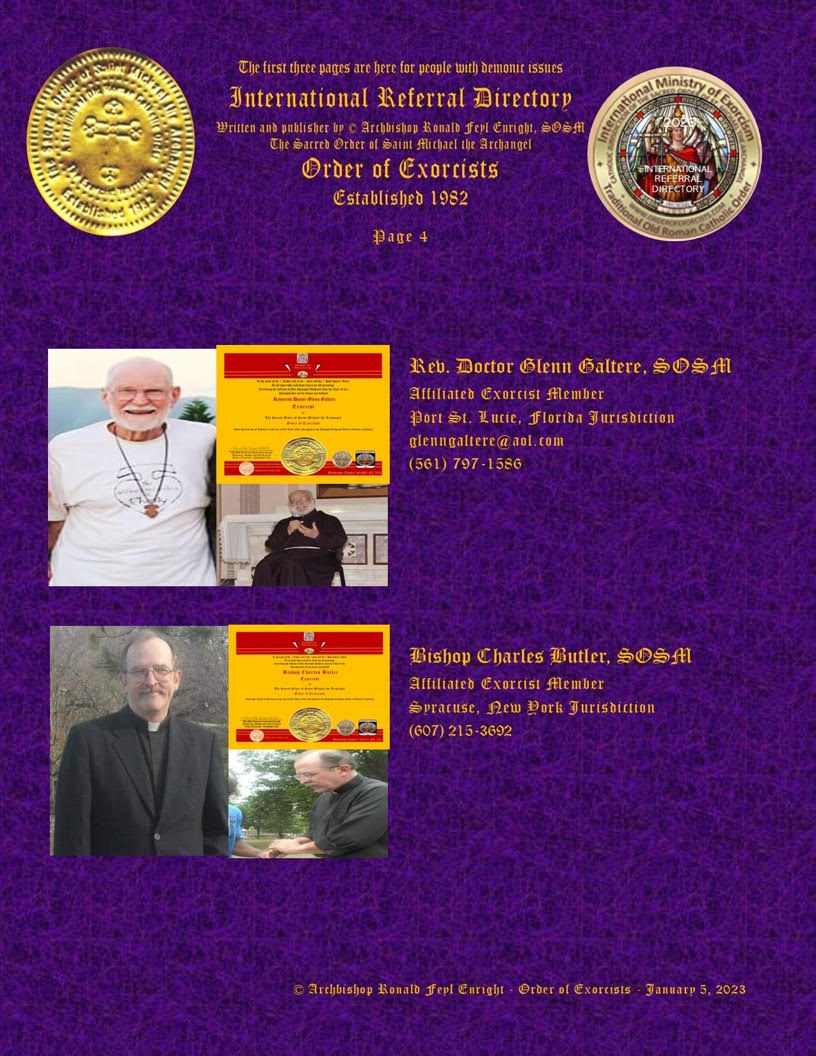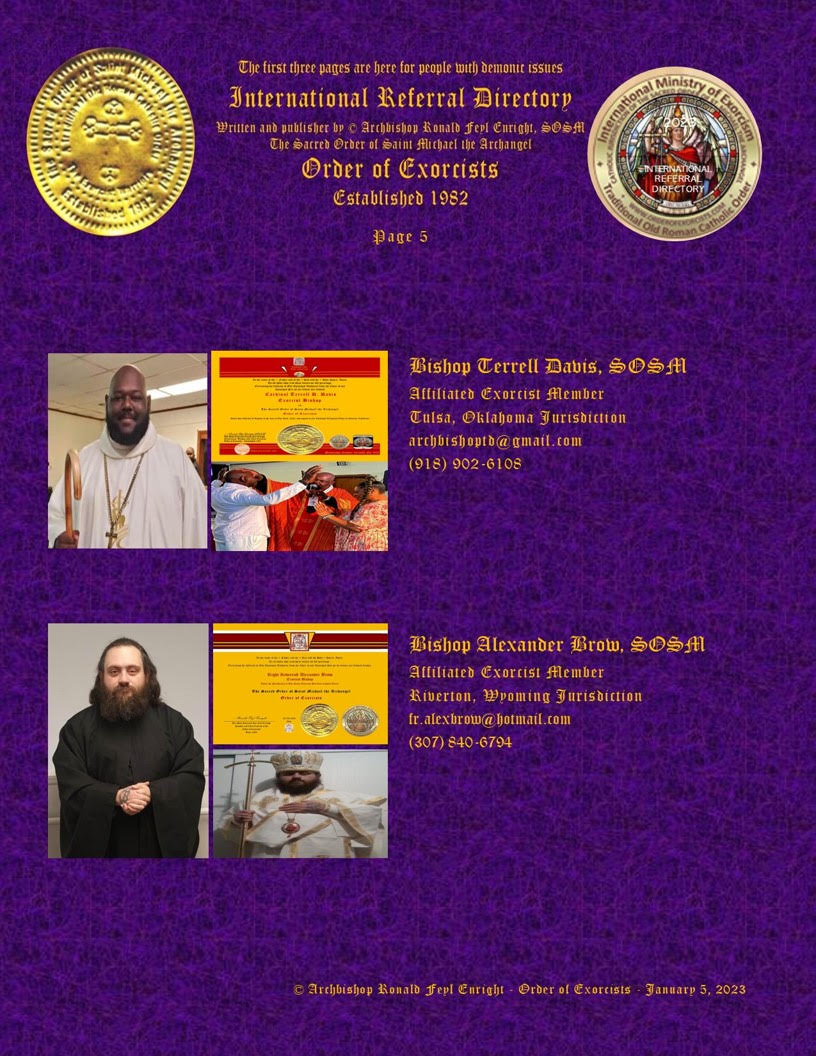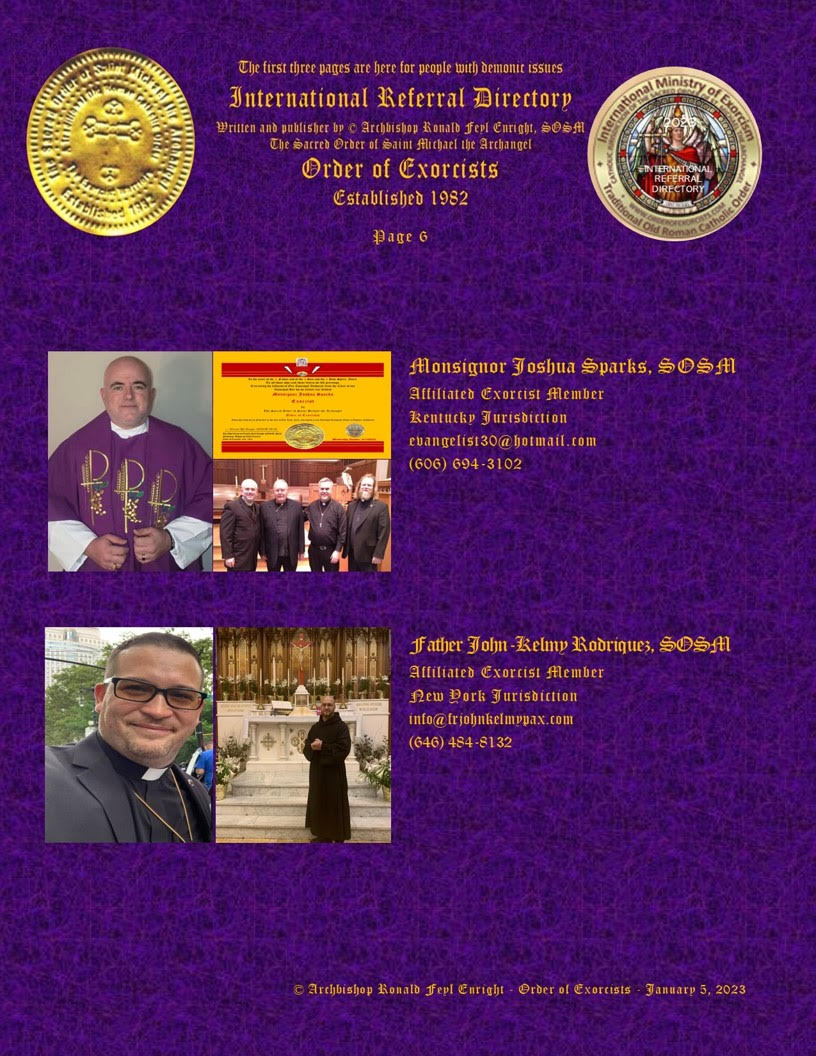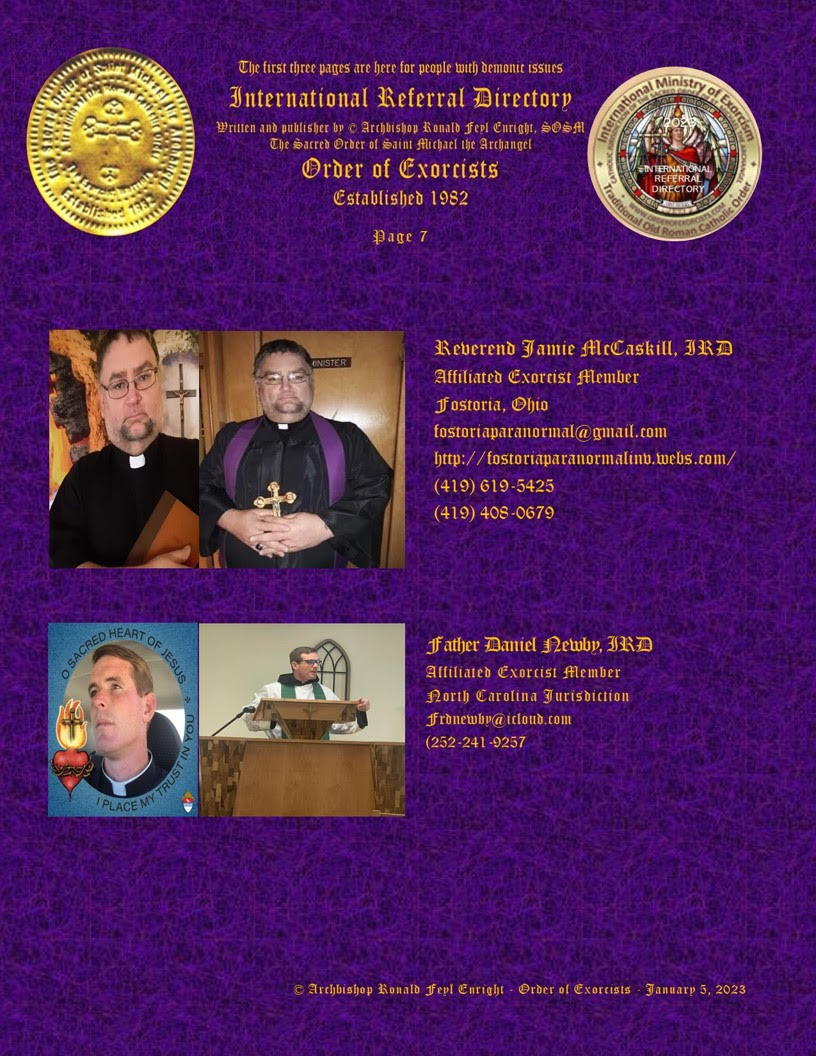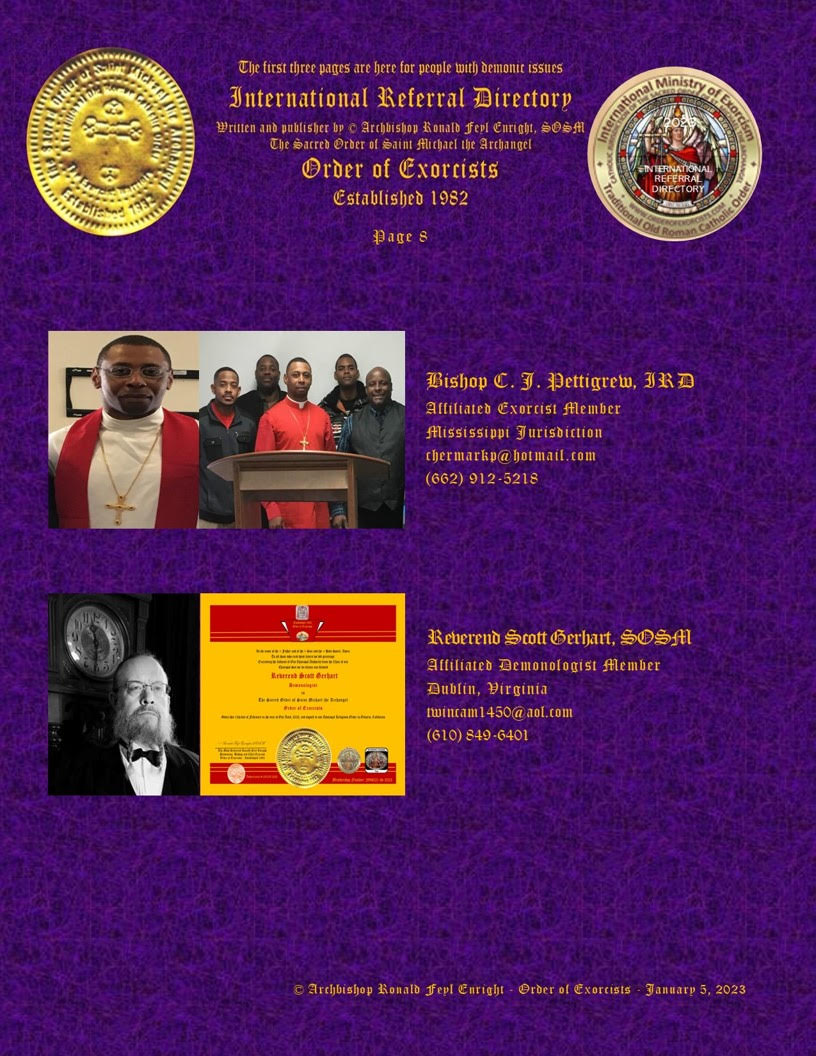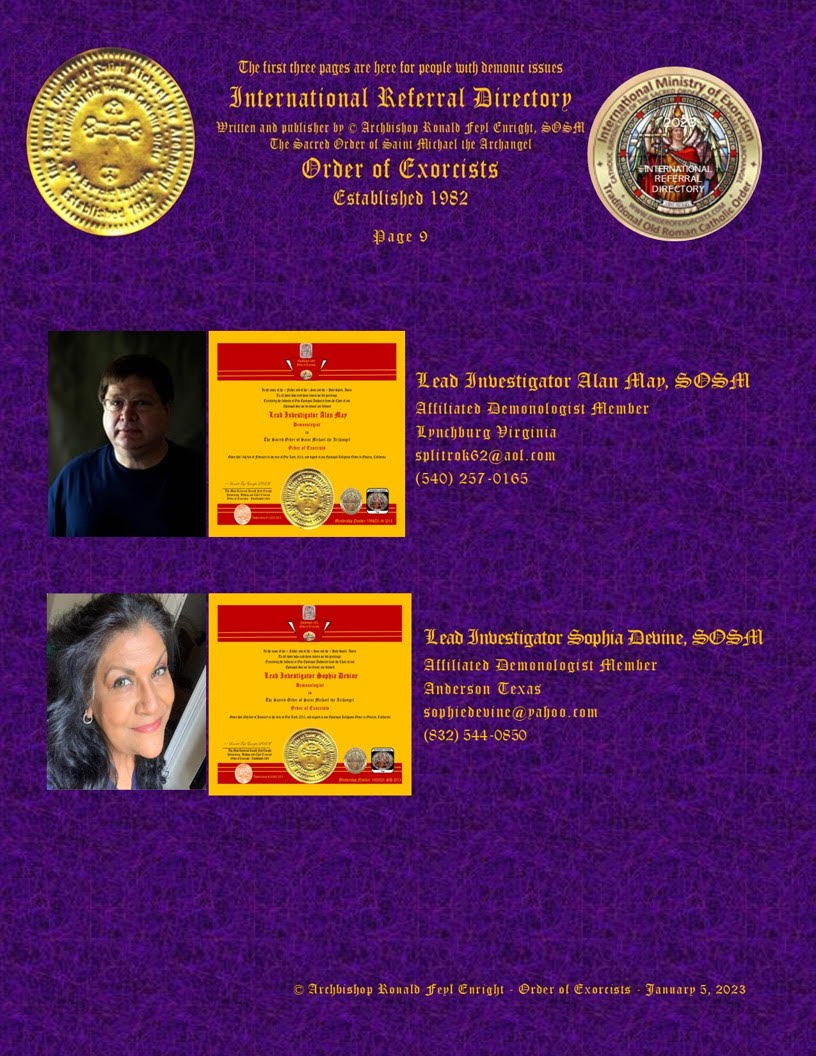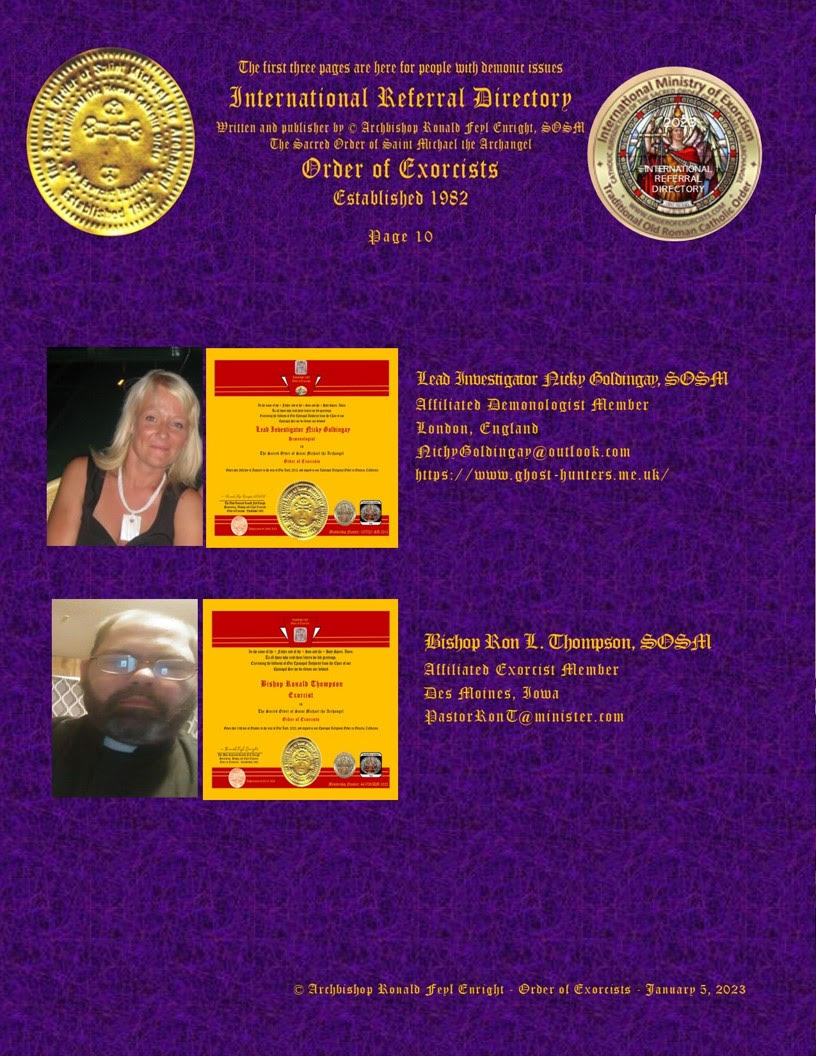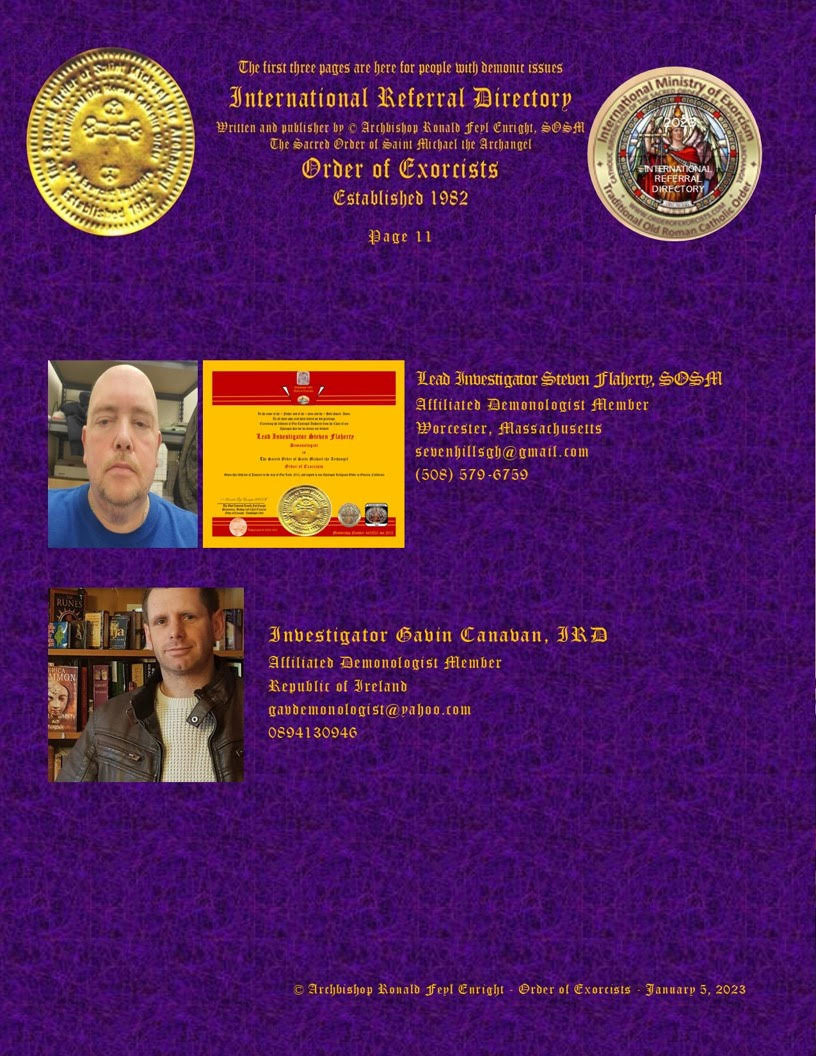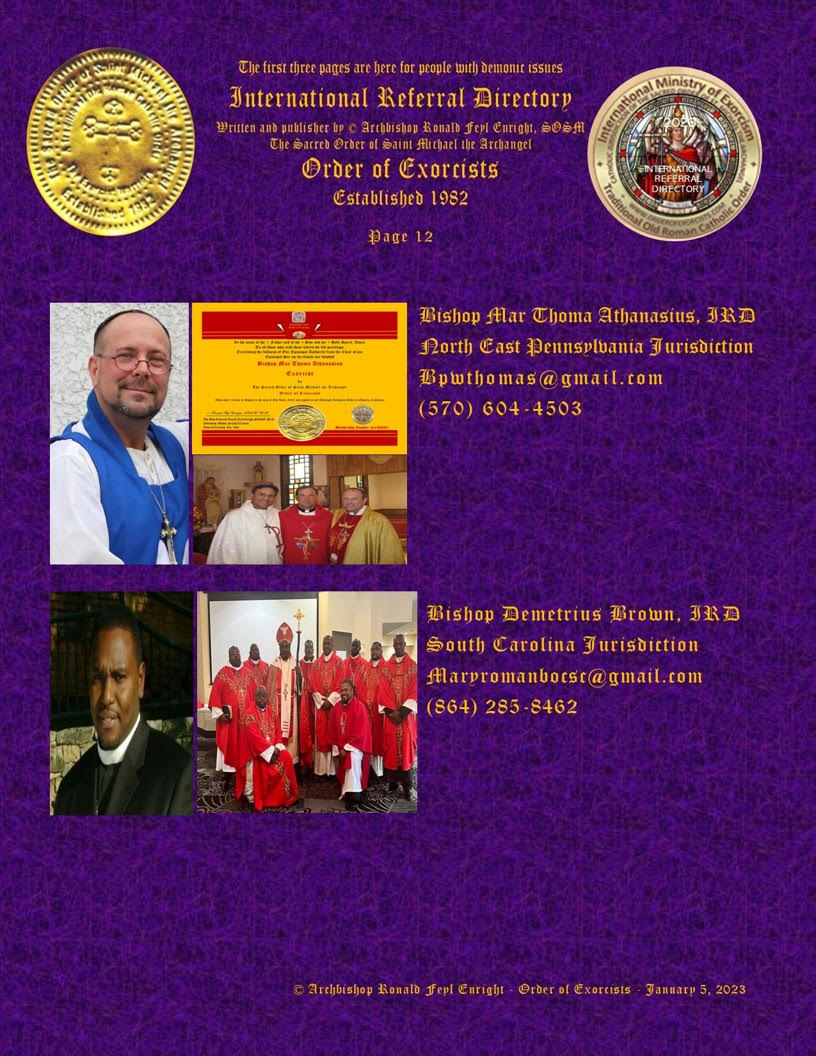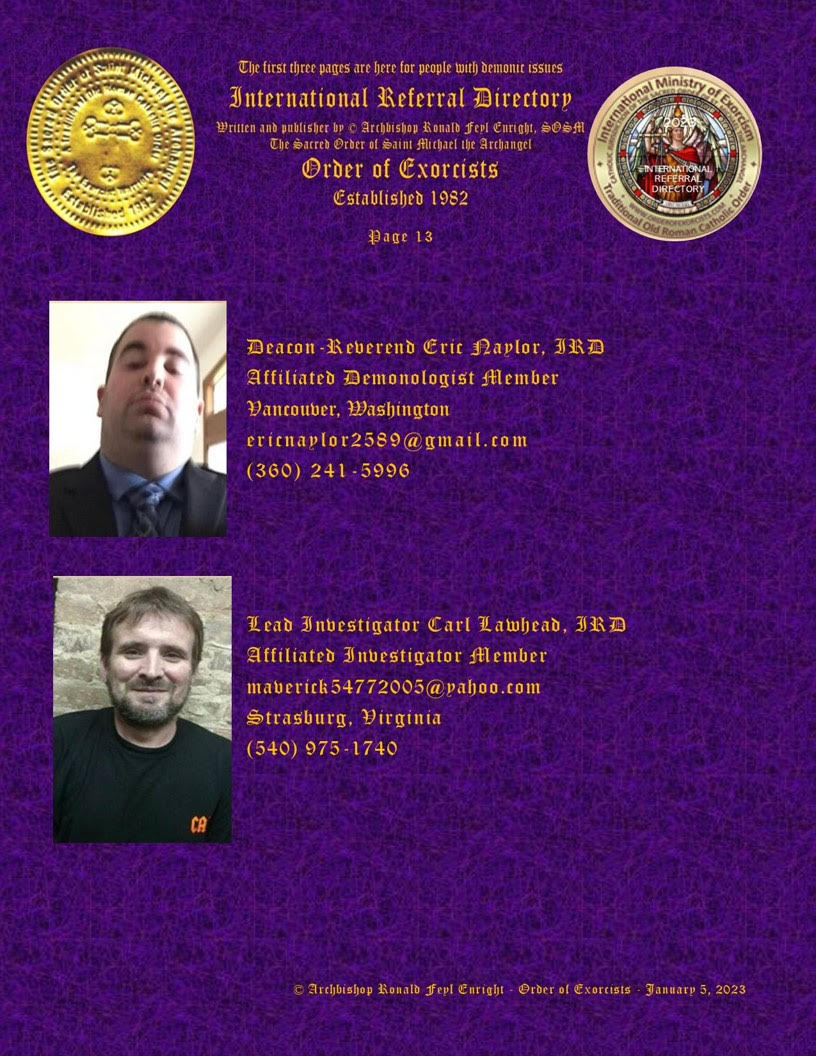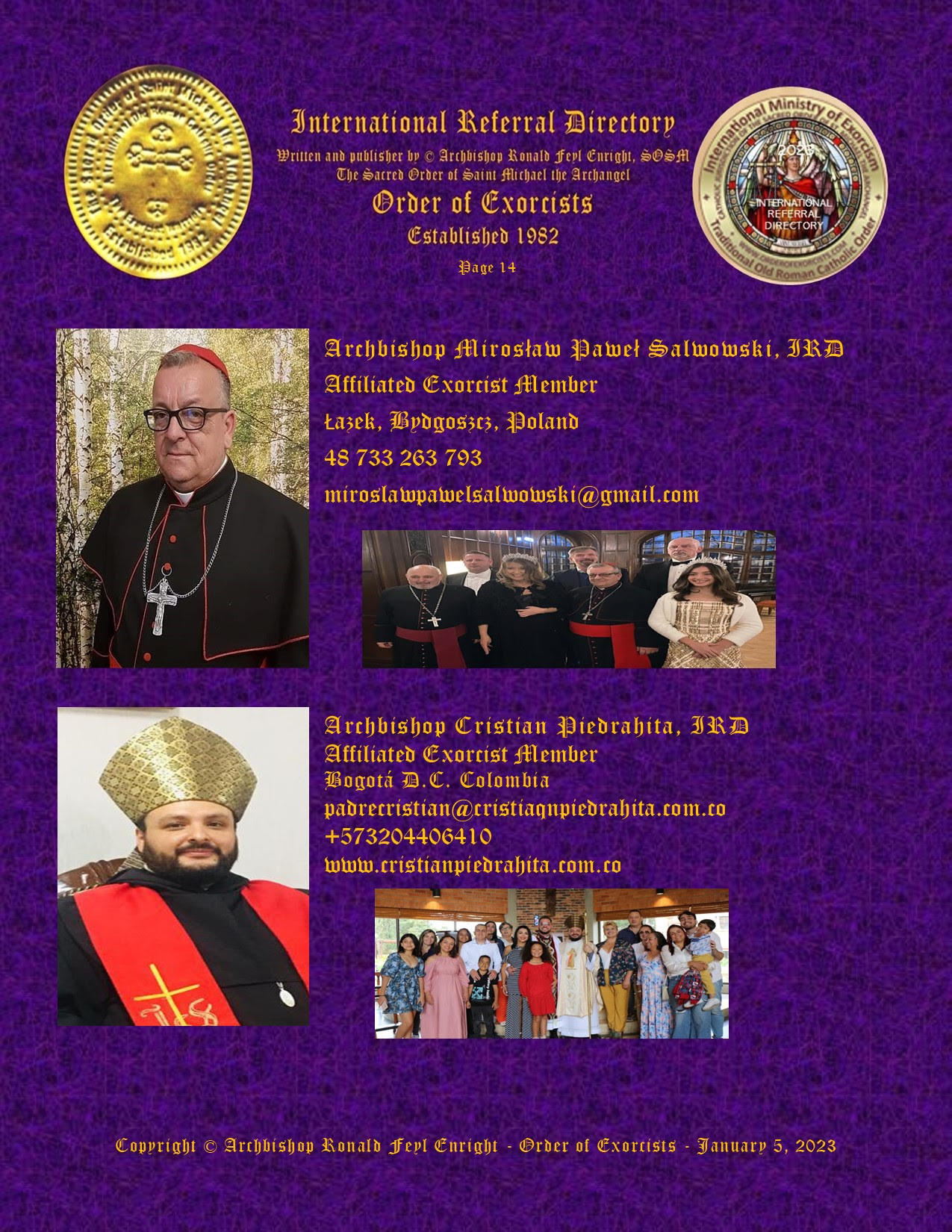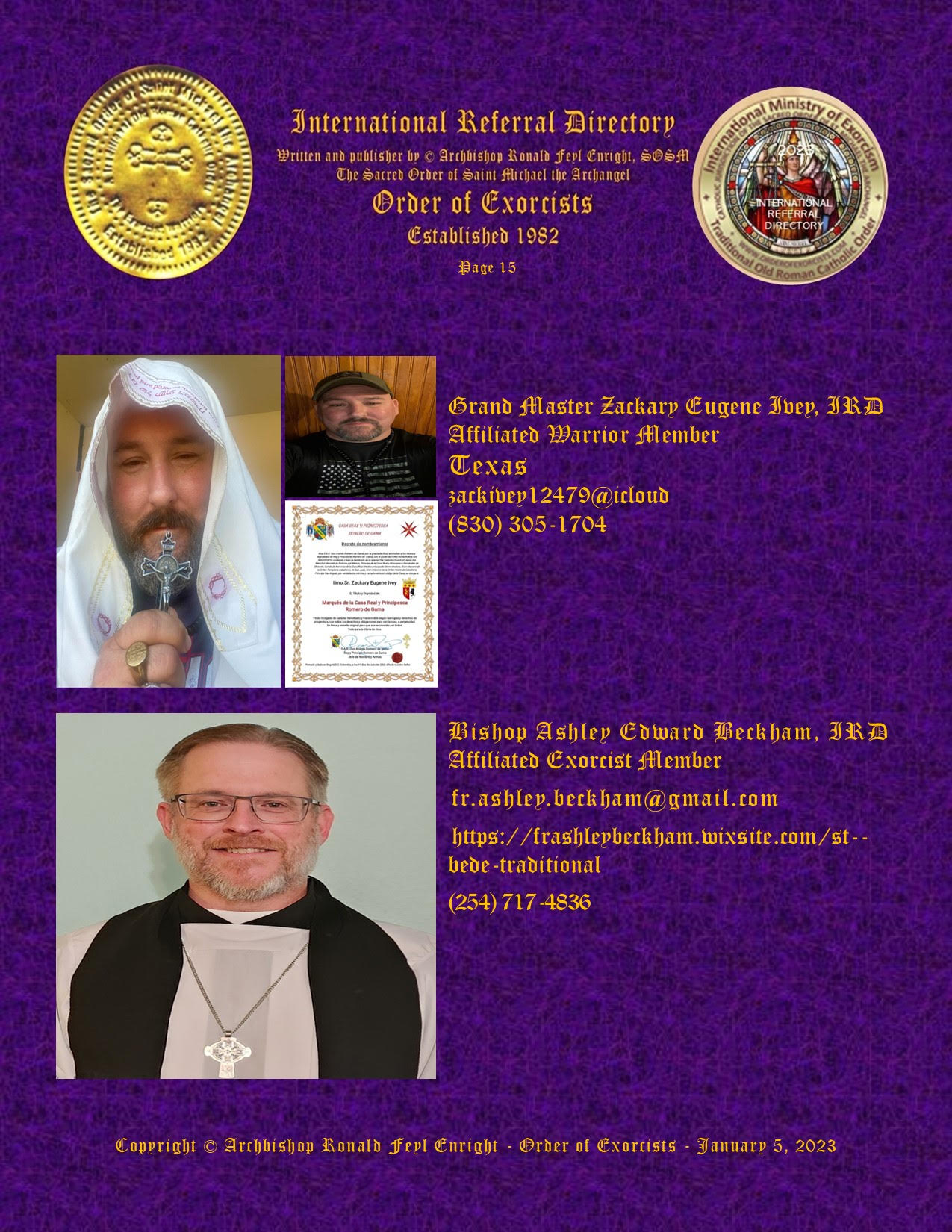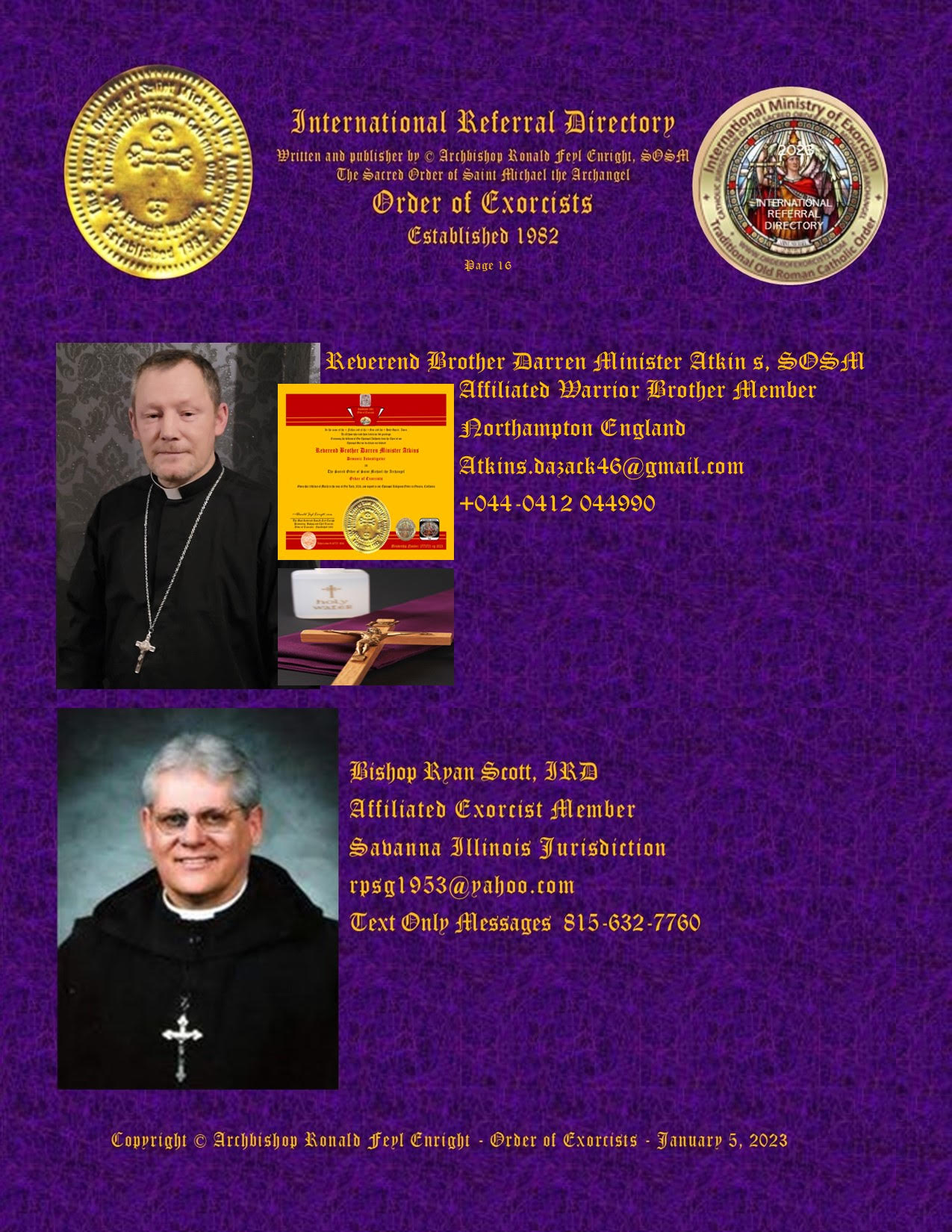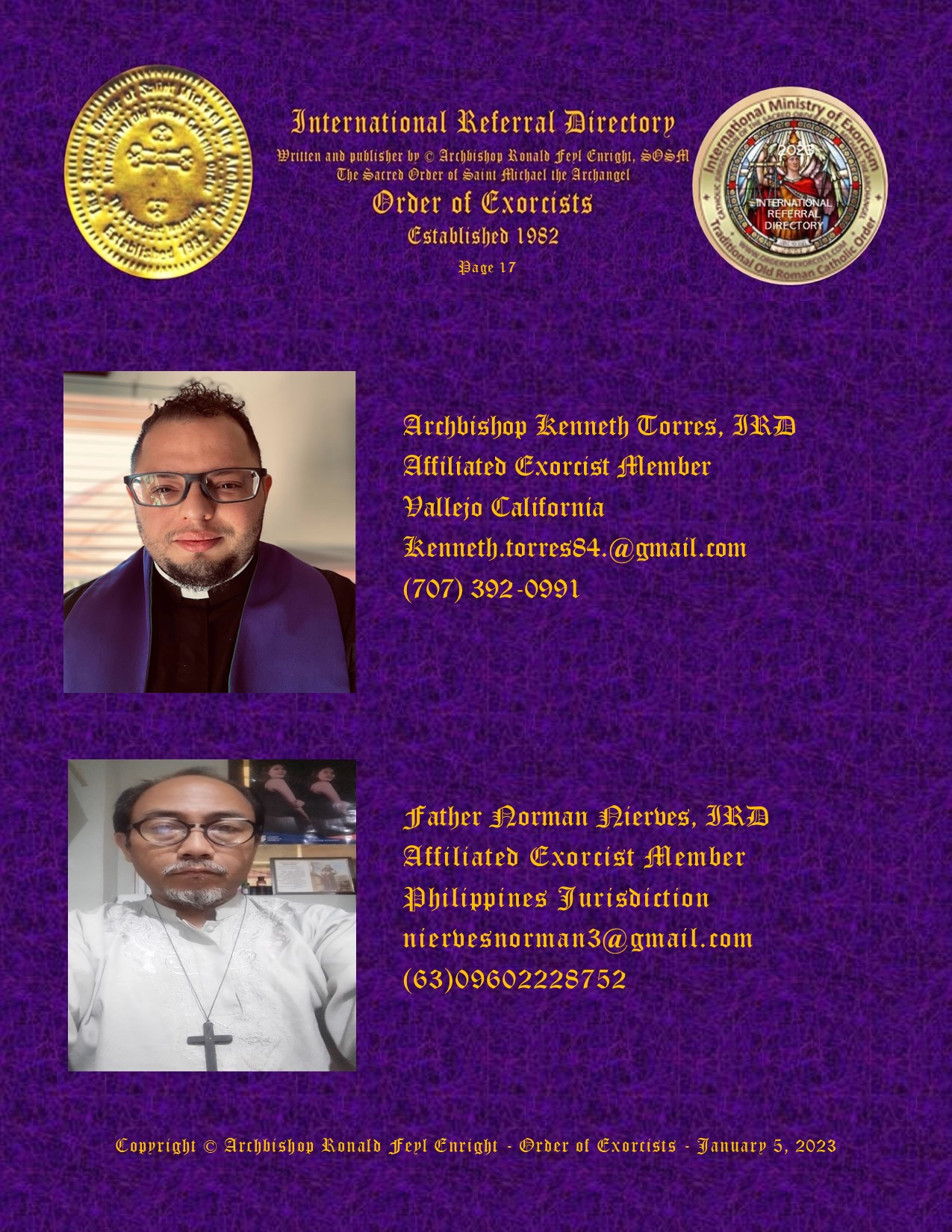 The Exorcist's Secret Journal by Archbishop Ron Feyl Enright published by Blurb Books
Find the Exorcist's Secret Journal by Archbishop Ronald Feyl Enright at Blurb Books or on Amazon. Here is an Exorcist autobiography told for the first time with untold events of demonic possession behind closed doors.
Readers beware. All of the information in this non-fiction book is REAL DEMONIC EVENTS that have taken place over the past 40 years.